27 Jun 2014
5 Unforgettable Adventures in Europe
Of course we all love to sit on a beach every now and again, lapping up the glorious sunshine as the waves gently roll in. Who doesn't? But we all also know that it can get a bit monotonous. There's only so much lying on our backs looking towards the Mediterranean sun – least of all because looking like a Peperami isn't a good look.
So why not do something different? Something exciting?
Across all corners of Europe there are some crazy things going on in places ranging from world-class resorts, to small market towns. So why not challenge your geography skills, in a different way by seeing how well you can identify the country that you are in.
Snowbombing in Austria
Combining music and winter sports, the Austrian resort of Mayrhofen is one of the most thrilling periods of the ski season, and has in the past seen the likes of Kasabian, Fatboy Slim, Dizzee Rascal, and the Chemical Brothers rock up to the main stage, whilst the slopes are awash with fancy dress , creating an incredible atmosphere.
Lasting a week, it's extreme sports at its finest, and Ride & Seek encourages all the top young pros to pull out all the tricks, a sight that rivals watching the biggest artists on the planet.
Cheese Rolling in the UK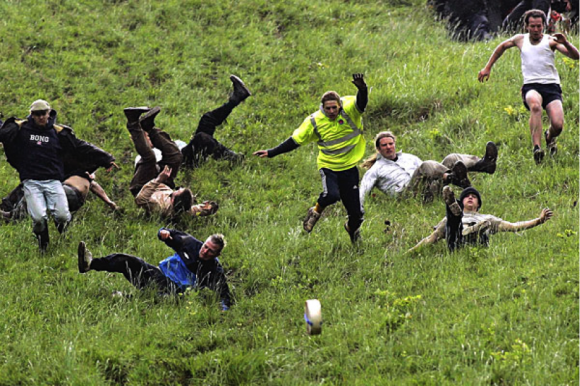 Held annually on the Spring Bank Holiday in Gloucestershire, a 9 lb round of Double Gloucester cheese is thrown down Cooper's Hill for hundreds of people to chase after. First down the hill, wins. It's certainly not one for the faint hearted, bones have been broken, shoulders dislocated, and if you don't end up with a few bruises it'll be a miracle.
Mountain Biking in Morzine
A playground for the risk-takers, Morzine in eastern France is a mecca for mountain bikers across the globe, with kilometres upon kilometres of trails for people to enjoy. You can explore the alpine forests, taking in the jaw-dropping mountain scenery, through a number of trails including downhill tracks and cross country, catering for all abilities.
It's known as one of the best places to ride in the world, but it doesn't stop there with the resort only a stone's throw away from ski-resorts such as Pila and Avoriaz.
Mud Olympics in Germany
You don't have to wait four years for this one. Nor do you have to sit through two hours of an opening ceremony. There are no national anthems, no huge stadiums, just mud. Lots and lots of mud.
Taking place just outside Hamburg, the event takes place in July every year and has quite the reputation, holding football, handball, and volleyball matches alongside traditional athletics events such as relay races, where instead of a baton, an eel is used.
Rock Climbing in Paklenica
Over the past few years, rock climbing has become quite the rage, and one place that is a must visit is in Paklenica, Croatia. The sport dates back to 1938 with everything from bouldering to lead climbing in some of the most beautiful surroundings in the world.
There are miles of routes to climb, whilst the trails and paths through the national park are perfect for those less daring. Aside from climbing, you can enjoy water sports in the Paklenica Riviera and is the place to visit for those wanting a weekend full of adventure.