18 Jan 2016
The 5 Most Vegetarian-Friendly Countries in the World
Food is one of the best parts of traveling, so why should carnivores hog all the fun? These are some countries that will have even your most bacon loving buds begging for vegetarian seconds. Here is a list of the five most vegetarian-friendly countries in the world.
India
India is home to seventy percent of the world's total vegetarians so it is no surprise that the world's finest vegetarian food can be found here. Centuries of practice have made Indian veggie dishes complex, rich, and completely cruelty free. Indian curries are so flavorful you won't miss meat one bit.  So whether you are vegetarian, a foodie, or both; India's cuisine is another reason it should be on the top of your travel list.
United States
With trendy west coast cities such as Portland and San Francisco and east coast standbys like New York and Boston; all at the forefront the "farm to table" trend, the United States of America offers some of the finest vegetarian dining around. Though these hip restaurants offer a plethora of fine dining on greens and veggies, America is known world wide for its love of meat. This love affair with meat has translated itself interestingly in the United States; the city of Minneapolis even recently opened a vegan butcher shop (I promise it's not an oxymoron.)
Thailand
Though vegetarianism is not as popular in Thailand as other nations on this list that does not make its food any less friendly. Known for its flavorful, diverse, unique, and above all fresh cuisine; much of Thailand's food is already vegetarian friendly. Be sure and check out the famous green papaya salad, abundance of fresh tropical fruits, and roti ( banana pancakes.) Also, Thais love tofu so be prepared to try this vegetarian classic in ways you've never even thought of.
Israel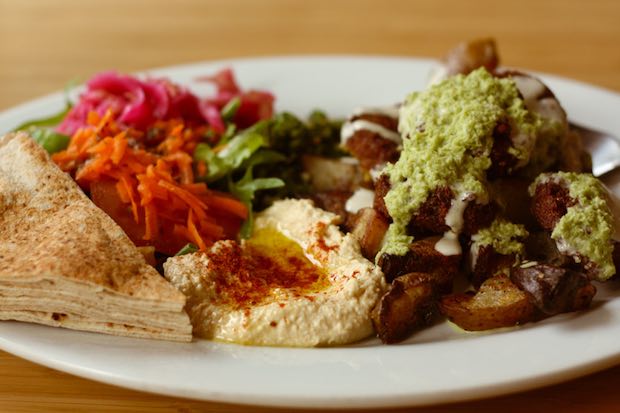 Over 12% of Israelis no longer eat meat, so this makes traveling and eating here much easier for fellow vegetarians. Plus, like most Mediterranean countries, fresh produce and vegetable-centric dishes are the norm. So there is far more than falafel (though it is exceptionally delicious here) to enjoy!
Italy
Unlike most of American "Italian" restaurants, authentic Italian food is not nearly as meat centric. With focus on high quality, simple, fresh ingredients you won't be left guessing what is on your plate. Even classics pizza are usually made vegetarian by default. So there is no reason a vegetarian can't experience the culinary joys of this foodie mecca.
I'm guessing your mouth is watering and you are are reaching for you passport by now but if you want to read more on vegetarian-friendly countries check out this infographic from Get Your Guide.com for some more info about traveling as a vegetarian.